Archive for
November, 2011
On behalf of Team Hello Kitty 3: Dark Kitty Rises I'd like to thank everyone who voted for us. It does mean a lot to us at both Dirtycomics.com and JKRcomix.com so thank you ever so much for the victory.
I am disappointed that there weren't more entries but that's JAB's and Web's issue to resolve. What is important is you guys and gals (are there any gals here?) out there. This win is for you and it'll always be for you. You're the real winners here.  So for our fans, here's an advance viewing of this pic. It'll be up at JAB's forum sometime this week. Thank you again and enjoy JKRcomix's next title release, Angel Pie.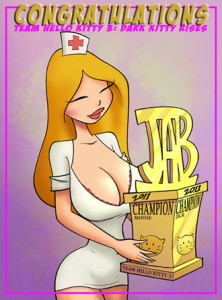 The hi res raw version will be up on Friday.